John Singer Sargent's Venice par temps gris
(Frontpage) (What's New) (Thumbnails) (Refer This Site)


Venice par temps gris
(Venice in Gray Weather)
John Singer Sargent -- American painter
1880
Oil on canvas
Jpg: Webshots
(Click on image to step closer)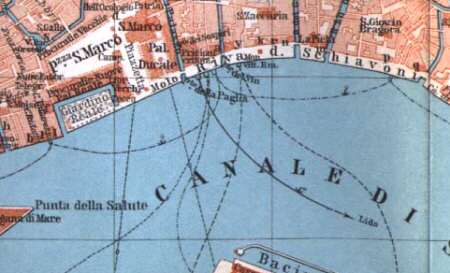 The view is along the Riva Degli Schiavoni looking west towards the San Marco

and the campanile

(the tower at the right) as well as Santa Maria della Salute



(the domed building towards the left). The entrance to the Grand Canal is between these two structures.
In the painting, at the right, you can see the bridges which cross the various canals that lead into the lagoon. To me, it appears that Sargent is painting this from a rooftop of a church that is located (on the map) right above the letters "Sc" of "Schiavoni" (but I can't make out the name of the church).
From Philip Resheph
Date: 10/6/00
The Riva Riva Degli Schiavoni runs from the Molo in front of the Palazzo Ducale east . . . towards the Arsenale. . . . Schiavoni means Slavs, and was where the trade from the Black Sea was carried out - it has always been very important.
Sargent again painted along the Riva Degli Schiavoni but this time much closer to San Marco.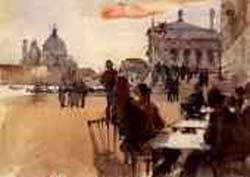 Cafe on the Riva degli Schiavoni
1880
Watercolor

Notes:

Exhibitions

Sargent in Italy, 2002-2003

See the year in review 1880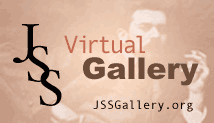 By: Natasha Wallace
Copyright 1998-2003 all rights reserved
Created 11/20/2000