Nettie Huxley (later Mrs. Rollar)
John Singer Sargent -- American painter
1888
Yale University Art Gallery, New Haven, CT
Pencil
9 1/4 x 5 7/8 in.
Gift of Miss Emily Sargent and Mrs. FRancis Ormond
Jpg: Friend of the JSS Gallery
Nattie would marry Harold Roller and the both had visited Sargent when John's father was ill according to Charteris (Charteris p. 99). She is also referred to in Sargent's letter to Isabella Stewart Gardner in 1889, but there she is referred to as Miss Huxley, so she probably married Harold Roller later (see letter).

Anyway, Charles Merrill Mount identifies two additional painting related to Nattie, the second, I assume, is of her daughter:

Comyns Carr and Miss Huxley in a Boat (sketch from memory) 24 ½ x 29 ½, Mrs. Huxley Roller. Works undated (Image N/A)
Madge Roller, inscribed: To my friend Nettie John S. Sargent. 23 ½ x 17 ½ , Mrs. Huxley-Roller, 1902
We can also infer that there is another oil that John painted of her in 1889 which he referred to in Isabella Stewart Gardner letter.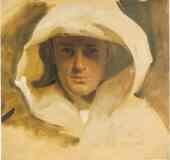 Portrait of Major George Conrad Roller
(Brother-in-law to Nattie)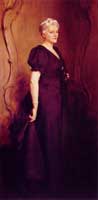 Mrs. Frederick William Roller
1895
(future Mother-in-Low to Nettie Huxley)

Notes:
Special thanks to Arthur Saltzman, of Costa Mesa, CA, a friend of the JSS Gallery, for sending me this image.