In the Luxembourg Gardens
John Singer Sargent -- American painter
1879
Philadelphia Museum of Art
Oil on canvas
64.8 x 91.4 cm (25 1/2 x 36 in.)
John G. Johnson Collection
Jpg: local

(click on the image to step closer)
The Luxembourg Gardens began as part of the Palais du Luxembourg which was built in 1620 for Marie de Médicis, widow of Henri IV, on the site of former mansion of Duke of Luxembourg.
The gardens are 25 hectares large (61.8 acres). They are part formal garden with terraces and gravel paths, part "English garden" of lawns, and part amusement centre for gardenless Parisians. The gardens were (and still are) one of the cities most popular public spaces. Dotted around is a veritable gallery of French sculpture, from a looming Cyclops on the 1624 Fontaine de Médicis, wild animals, to queens of France, and one of Sainte-Gèneviève -- the patron saint of Paris. There are orchards, and flowering trees.
The proximity of the gardens is very near the Latin Quarter were Sargent lived when he was studying in Paris and so he probably spent a great deal of time here.
It's interesting to keep in mind that when Sargent came to Paris to study in 1874, it was only three years after The Paris Commune (a brief civil war/revolt) that killed over twenty thousand Parisins and had left the Palais du Luxembourg badly burned. In its wake the Third Republic was formed and was rebuilding the damanged parts of the city. So it was in this light that Carolus-Duran was commisioned to paint "The triumph of Maria de Medici" for the remodeled Palace in 1877 which Sargent took part -- though the painting wouldn't end up there.
See also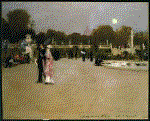 Luxembourg Gardens at Twilight
1879

Notes

Exhibitions
John Singer Sargent, An Exhibition
-- Whitney Museum, NY & The Art Institute of Chicago 1986-1987
Forum:
Subject: Major paintings
From: Melissa Kemlitz
<ke m litz@onebox.com>
Date : Thu, 04 Oct 2001
love to see In the Luxembourg Gardens on your [Major Paintings] site. That painting, like Lily, Lily, Rose is so masterful in its representation of light. When you see it, you feel no one has captured something you've seen and known so well before. You don't see the picture as much as remember it.
Thanks for the site.
Melissa