Subject: Woman in water with halo?
From: Matt Stephure
8/15/99

Hi, I would just like to say that you did a wonderful job compiling all of Sargent''s paintings, lithographs, sketches, etc... However I''m looking for one inparticular. As far as I know it''s currently held at Le Louvre and it is of a girl (Saint?) lying face up in a pool of water, and the painting is focused on her face, and around her face is a halo. The painting is --

[the message was cut off and stops]
8/25/99

I'm prety sure that the painting you are describing is of the Pre-Raphaelite Brotherhood -- Sargent was not part of the PRB. If someone knows that I'm mistaken about this painting, please let us know.

-- Nat

From: John Malyon
2/15/00

Hi, Natasha. How are things going? Your Sargent site is really becoming elaborate.

I was recently asked about a painting of a woman lying face up in a pool of water. During my research I happened to see that you have been asked the same question.

It's probably a bit late for you to answer your question, but I eventually tracked down the work. It's La Jeune Martyre (The Young Martyr), by Paul Delaroche [Musee de Louvre, Paris].

From: Natasha
2/15/00

John Malyon? THE John Malyon of the renown artcyclopedia.com? I am ever so flattered you dropped by <smile>. It's never too late to answer an outstanding question -- In fact, Paul Delaroche's painting wasn't the one I was thinking of -- but this must be the one.
Subject: "A Lady" 1880 Sold by a Museum?
From: B cca esq@aol.com
10/10/99

I was wondering whether you could direct me to more information on John Singer Sargent's "A Lady". I've tried to track it down a number of ways, and found out it was in the Nelson-Atkins Museum of Art in Kansas City, MO, but that's all I know. I am trying to find out the name of the woman, and information on who she was. Any help would be greatly appreciated.


---

From: Beccaesq@aol.com
10/11/99

Natasha, Just to clarify my last e-mail---I was told by someone that the painting "A Lady" was at the Nelson-Atkins Museum of Art, however, I have no actual knowledge of that. Apparently, the portrait was on the cover of a book, and friend saw it in a bookstore and copied down the information about the cover, which identified the picture and indicated it was from the Nelson-Atkins Museum. I have checked several biographies, websites, and coffee table books, with no luck so far on finding any further information. I've just been curious about the portrait because many people think there is a resemblance. Anyway, thanks for posting this on your Forum


10/10/99

Boy, that's sure news to me. I live close to the Nelson-Atkins Museum of Art and I didn't know they had it. I got the image from artnet.com and it came from an art dealer -- if I remember right. Who ever had it was trying to sell the painting and I would be pretty upset if it was the Nelson.

The best source on painting profiles is from Ormond, Richard; and Kilmurray, Elaine; John Singer Sargent, The Early Portraits, Complete Paintings Vol I.. -- that is if it has it, I don't remember, look under my Bibliography.

Nat


10/11/99
The next time I'm at the Nelson, I'll look into this, If they at one time owned it, they should know, or have books about it someplace. I'll squirrel your quarry in the back of my head and eventually I'll find out something. You could always snail mail them directly if you wanted to.
-- Nat
11/4/99
Apparently it WAS owned by the Nelson, but they have since sold it. The gallery at artnet.com shows the painting sold.
A book at the Nelson Atkins book store tells that the painting is inscribed with Sargent's hand: "To Ben del Castillo" a childhood friend of Sargent's. The book went on to say that the identity of the lady was never discovered.
-- Nat
Subject: Head of a Capri Girl -- 3rd painting
From: Jennifer Scott
ja co tt@flash.net
12/28/99

My Sister a "Mega Sargent Fan" has asked me to help her locate a picture of a painting she saw last summer at the Boston Museum. I am including the info she provided me, I know the information is quite detailed, but I wasn't sure what would turn out to be the "key" to finding this painting. Thanks so much! Jennifer

When I went to Boston this summer for the John Singer Sargent exhibition, there was a painting there that I've never seen before in any book, show, etc. It was one of the best portraits of his I've ever seen, and I can't forget it. I even went to Boston a second time just to see the painting again. I e-mailed the Boston Museum of Art a couple months ago, asking them for a reproduction. They didn't have one, and said I should write a letter to the private collector who owns the painting, and ask him/her for it - the museum would forward my letter. I wrote right away and several weeks later the museum wrote me to say the collector (who wished to remain anonymous) could not supply me with a picture.

Since then, I have e-mailed countless out-of-print book sources, asking them to check their Sargent books for this painting. They all answered me, and were very nice but said their books didn't have a picture of the painting.

Sargent's grandnephew, Richard Ormond, has written many books on Sargent, some of them within the last year, and I'm thinking of writing to him in care of his latest publishing company. But I don't hold much hope that he'll even get the letter.

Here's the scoop on the painting: it's called "Head of a Capri Girl". The problem is that Sargent titled three different portraits with the same title. The first one is a profile of a head and neck only. The second one is facing forward, she has large metal hoop earrings and a red hairband. The one I want to find so much has a pale yellow background, the girl is facing forward and has black hair in a loose bun, black dress with a white chiffon-type veil wrapped around her neck, and is only a head and shoulders portrait. It's very simple, but very striking. Her face is unbelievably beautiful.

The only reference I can find is from Ormond's first book on Sargent, "Sargent: Paintings, Drawings, Watercolors" Harper & Row 1970, where he says on pg 236) re: '"Head of a Capri Girl" (and he's talking about the second painting)....Sargent used the same model, Rosina, to whom he was introduced by Frank Hyde, in several other pictures of the same date: the profile study for this...(owned by the Ormond family), and a third full-face "Head of a Capri Girl" (this is the one) formerly owned by Sir Alex Martin, London.'

Any clues? I'm keeping my fingers crossed! Thanks again







---

The Mystery is Solved -Portrait of a Gypsy
From Susan Jansen
susa nm arie@home.com
2/8/00

Dear Natasha:

Jennifer Scott, who wrote you regarding "Third Head of a Capri Girl", is my sister, and has been invaluable in helping me discover the identity of the "mystery portrait" at the Boston Museum of Fine Arts this past summer. Jennifer discovered your forum, which has helped also. At Wonsug's suggestion, we wrote to Adelson Gallery and after a little confusion about which portrait we were looking for, were informed that the painting is (drum roll here) "Portrait of a Gypsy".

Apparently, the painting was lent by a private collector for the Boston show only. It was the very first painting on the wall as you entered the exhibition, and I knew when I saw it that it had never been reproduced in any book on Sargent that I know of. Unfortunately, Adelson Gallery says that there IS no reproduction of the painting available, and we will have to wait 2-3 years for it to be published in a future catalog raisonne of Sargent's paintings.

What agony! And I'm finding this a little hard to believe, too. Any suggestions about where to go now to try and find a picture of this gorgeous painting? Jennifer suggested writing to the Boston Museum again and asking them about some sort of a registry by which to find the last seller, or better yet, an auction house that may have handled the painting at one time and has a picture. Is there any registry of this kind that you know of? Any other suggestions?

Susan Jansen

P.S. I really enjoy your website, and especially loved seeing the photo of Gertrude Vernon, "Lady Agnew".






From Susan Jansen
sus anm arie@home.com
2/16/00
He's got it right; that's where it was hanging.
Sincerely,
Susan Jansen




Natasha
As for finding a print (large print) of a privately held painting, I'm afraid you are probably going to be out of luck. The best hope would be that the painting was included in the Retrospective Exhibition Catalouge, of which I don't have a copy handy on my desk. Let me ask Wonsug or Bert to see if it was in included, But from the index that Bert put together for me, it looks as though the painting probably wasn't included in the book.

From: Wonsug Jung
12/30/99
Jennifer Scott's question is a really hard one. As far as I know, the catalogue includes all paintings exhibited, but there are only two paintings with the title of "Head of a Capri (or Ana-Capri) Girl", and these are the first and second one. And I don't remember seeing a third painting with the title of "Head of a Capri Girl" at the exhibition, either. So I'm really curious which painting, within the Catalouge, the BMFA contacted the owner -- for THAT would identify clearly the painting title -- Could your sister ask the BMFA?
In the catalogue, Elaine Kilmurray remarks about another version of 'Head of a Capri Girl (the second one)';
A frontal head and shoulders study of a girl with her hair drawn back and parted in the center, and with a flower behind her left ear, was exhibited at the Royal Academy in London in 1926, where it was erroneously identified as Mlle L. Cagnard. It probably represents the same model as does this work, and is presently untraced.
I think this untraced one is what Mr Olmond referred to as 'a third full-face "Head of a Capri Girl" formerly owned by Sir Alex Martin, London.', and if such, Jennifer Scott's sister could not have seen this at the retrospective exhibition.

Then what can be the painting she saw in the exhibition? I think the only possible one is Carmela Bertagna but her description does not match to this painting, very strange.

Maybe the location the painting was displayed could be a clue. I remember the 'second one' and 'Carmela Bertagna' were displayed at the portal of the exhibition with 'Portrait of Edouard Pailleron and Marie-Louise Pailleron' and 'Madame Edouard Pailleron'

If her sister is going to write a letter to a Sargent expert, I suggest sending e-mail to Warren Adelson through his gallery's homepage: Adelson Galleries

I'm really looking forward to Bert's answer.

Yours,

Wonsug

From Natasha
12/30/99

Thank you Wonsug, I will second your comments about Warren Adelson. He supposedly is working with Ormond on compiling a complete Catalogue books on Sargent. He would most certainly be a good one to try and reach.


From Bert
1/3/00

In the C. M. Mount Sargent book (1955 addition) I find 4 Capri Girl citings.

They are:
1878 - Head of a Capris Girl - 9 X 10 inches - In 1955 the owner was Mrs. Francis Ormnond - This is No. 4 in the retrospective catalogue where it is listed as being in a "private collection"
1878 - Head of a Capris Girl - 17 X 12 inches - no owner is stated - This is No. 7 in the retrospective catalogue where it is also said to be in a "private collection"
1878 - Head of a Capris Girl - 18 X 14 inches - in 1966 it was owned by Sir Alec Martin
1880 - Capris Girl - Fogg Museum - no size given and I've not idea what the image is.
Wonsug seems to have analyzed this quite thoroughly and I share his memories as to the placement of the works at the Boston Retrospective.

The mystery remains.

From Natasha
1/3/00

Fogg Museum is part of the Harvard Museums that have Sargent's work, but they are not showing any referance to a painting titled "Head of a Capri Girl" or anything like that -- at least online.



From Natasha
2/8/00
Thank you Susan for your comments. It is very rewarding to hear back on things such as this when we all have invested a little bit of time and so we all share a degree of curiosity on who the mystery painting was.
I'm never have been one to hold back on my thoughts and I generally have no qualms about making my correspondence public, but there is a bit of delicacy here in how you might want to handle this.
Your sister's first correspondence, which quoted you, stated that the Boston Museum of Art sent word that the owner of the painting wished to remain anonymous and so I think you need to respect that request.
Sure, there must be photo's of this painting someplace and an art dealer that sold it probably has it (though I doubt that they would release it to you without the owners okay). Also, if I were to bet, I would put my money on that Adelson Gallery probably has an image of it but feel it's not ready for public viewing and they want to hold it out as a carrot when they publish the book in 2 to 3 years -- you can't blame them for that.
To answer your question. No, there isn't any central clearing house for the Provenance of Sargent's paintings. That's sort of what the Adelson Gallery is now trying to undertake with the Complete Catalogue Raisonné Project. Some of the major books have compiled Catalogues. The Pragmatic Romanticist is currently working on getting the Catalogue of Oils as was printed in 1955 (now out of print) onto the net.
It would be my suggestion to write one more letter to the Boston Museum with the request that they forward the letter to the owner.
And in this letter I would write that in the interests and shared love of JSS's work, and of this painting in particular, would they be willing to allow the painting to be photographed for use in prints -- by reputable printers of course -- to be sold to the general public. Of course you would want to point out that they would get royalties for this as museums do with prints of their work, and that you would be willing to investigate how to go about doing this for them -- there are certainly precedence for prints of privately held painting -- though not as common as from public museums.
And then be willing to do some of the digging and research, as an act of good faith on your part, for the owner on how to go about doing this.
If they are willing, the rewards could be great for all. You would finally get your quality print; the general public would get the benefit of its inclusion into the public Lore of Sargent's body of work; its public exposure could only further increase its familiarity and therefore its demand leading only to a greater value for the investor if it were ever sold; and in the mean time the investor, just like museums, would reap royalties from the sale of the prints.
Win win for all, you would think.
Good luck
Natasha
Note- I wrote Wonsug and asked if he had seen the painting that Susan was referring to and whether he saw the Exhibit Washington DC or Boston. In his very thoughtful way, he wrote back
From: Wonsug Jung
2/15/00
I don't think I remember that painting, and the exhibition I saw was in Boston. I enclosed a schematic drawing of the portal of exhibition.
Subject: Is the Mystery Rally Solved
From: dunn39
du nn 39@acninc.net
2/16/00

In the first room on the wall on the left side (1st or 2nd painting) was a portrait entiltled "Portrait of a Young Woman" dated 1880. It did not have a tag where it came from or who owned/loaned it. It was our favorite painting. It was a close up of a girl's face and may
have had a red flower in her hair on the right side. Any suggestions ?

Note --(I told them to first look first at my Chronology Index pages and they wrote back:)


Yes, we went through but could not find it. Do you think it might have been on loan from a private owner?


---

From: dunn39
du nn 39@acninc.net
2/18/00

My wife flew from buffalo to Boston twice to see this painting. It was most definitely in the first room in either the 1st or second space. She did have her hair in a loose bun and the description below sounds accurate. She did write down that the title card said "Portrait of a Young Woman" and it was dated 1880. Now what do we do?

Natasha W. wrote:
the painting that WE have been trying to figure out has been discribed as follows:
it has a pale yellow background, the girl is facing forward and has black hair in a loose bun, black dress with a white chiffon-type veil wrapped around her neck, and is only a head and shoulders portrait. It's very simple, but very striking. Her face is unbelieveably beautiful.


(Editor's Note -- Even three years after the show I still get letters on this painting)

From: Simone Simonian
sim onsimoni an@attbi.com>
Date: Sun, 15 Jun 2003

My question is this; I attended the major show of Sargent's works at the Boston MFA, and in the very first gallery his "early works" there was a painting in that gallery, simply named "Head of a woman" . . . Have you got any idea where one might see her in a reproduction? why has she not ever been reproduced in one of many Sargent books? maybe the collectors don't want it reproduced, but what would be the reason, for it not being reproduced at least once for the sake of education and study? I have been thinking about that painting ever since I saw it and can't get it out of my mind, the crowd was so tightly gathered in that small gallery that it made it impossible to linger and came back to it, and it has never been in any other show including "Sargent In Italy".

Any answers? Thank you! for this wonderful website, it is truly remarkable, what you have done here. thanks! Simone Simonian.

(Editor's Note -- Natasha asked if Simone had read this part of the forum about the Mystery Girl)

From: Simone Simonian
s imon s imonian@attbi.com>
Date: Tue, 17 Jun 2003


Thank You! Natasha for taking the time to reply to my question. Indeed that is the painting; it seems that it has left a profound impact on others as well... I wasn't aware that it had been discussed in the forum, your site is so huge, that if one doesn't check it every week, one could easily miss vital topics, and their discussions. I am infinitely disappointed at eccentric collectors who refuse to share the wealth and are not philanthropic, and I am apposed to anyone having enough money to buy one of these treasures for the selfish reason to keep them to themselves and not share the information, and not giving anyone the simple pleasure of seeing it again in a reproduction, after all they have the original all to themselves. I hope you post my reply just in case the collector has a chance to view it and might have a change of heart.My message to the collector is; Don't be paranoid, please share; it is your responsibility as an art collector, Look at people like Armand Hammer,J Paul Getty,Norton Simon, what if they all protected and hid their collections the way you do? no one would get to see anything more than once. Thank you for your patience, and your willingness to indulge me, on this subject which has become very near and dear to me.

Simone Simonian.


From Natasha
2/17/00
Could this be the same painting that we're talking about from Susan Jansen -- that one was on loan from a private owner? I wonder.
If this painting is really all that stunning, I am more than just a bit curious about what this painting looks like. Since Wonsug didnít see it Ė or remember seeing it -- maybe the painting was only shown for PART of the run of the show in Boston.
-- Nat




From Natasha
2/18/00
Well, THAT seems to be the Million dollar question.





From: Natasha
There you go Simone, for whatever good it will do.
For what it's worth, I agree with you.


From: Natasha
Date: Tue, 21 Oct 2003
The painting is Found!
It's being shown again!
Thank you anonymous owner -- from all of us -- Thank you!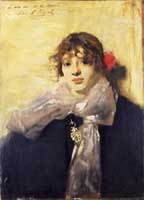 Head of Venetian Woman
Subject: Where is Léon Delafosse portrait?
From: RENATO CALZA
r.c al za@tiscalinet.it
Date: 6-5-00

I''m an Italian musicologist, searching information on Léon Delafosse. I''ve seen John Singer Sargent made a portrait of Léon Delafosse in 1894 (N? 9412 in you web-site). Where can I found it? Is it in an art gallery. Is it on the web?

Thanks

RENATO CALZA, Schio, ITALY



From: Gabriella Alu
ga b rilu@tin.it
6/19/00
Greetings! I find your site very wonderful! The best site on the web about a single artist!
Sorry for my bad english, I'm italian; I read english but I'm not able to write it well... :-(
Delafosse was a pianist friend of the french writer Marcel Proust and of the count Robert de Montesquiou. Jean-Yves Tadié (Proust biographer) writes in his "Marcel Proust Biographie" that Sargent painted this portrait when Delafosse was twenty years old.
I found it in your site at: John Singer Sargent - Works in Oil (Charles Merrill Mount), 1890 - 1899
The portrait of Delafosse is mentioned here, dated 1894, catalogue number 9412. But it seems to me that no one knows WHERE the portrait is NOW...
Best regards, :-)
Gabriella Alu', Palermo, Italy
P.S.
...and see also my site on
Babel Fish
]

From: Renato Calza
r.c a lza@tiscalinet.it
6/19/00
Do you know when and why Léon Delafosse sold Sargent's watercolor "Canal Grande, Venice) to Wintrop Grenville?
Thanks
Renato Calza


Natasha:
Can you help me out? I remember the name Léon Delafosse, but I canít find any reference to it at my site which you say I refer to, and I donít understand what page of mine you refer to as ďN? 9412" . I glanced in a couple of books and I think the date would be more like 1906 or 1907.
Not sure right now where the painting is.
Nat

Anyone else?


From Natasha:
6/19/00
Gabriella,
Your english is fine. A lot better than my Italian, Iím sad to say. I still think Iíve seen an image of this painting someplace. Iíll keep my eyes out for it. Thank you so much for your input. -- Nat



Natasha:
Renato, I'll post it but it's well beyond what I know. -- Nat

Subject: Léon Delafosse portrait
From: Wonsug Jung liedfan@yahoo.com
Date: Sun, 8 Oct 2000
I saw the reproduction of Léon Delafosse portrait in the book titled "The Works of J.S.Sargent" which was published in 1903.
I believe the painting is privately owned.

Subject: Léon Delafosse found at Seattle Art Museum
From: Michael Kann mtkseattle@yahoo.com
Date: 4/23/01
I came across your web site while looking for a picture of the portrait of Léon Delafosse and saw there were people looking for the location of the portrait.
As a member of the Seattle Art Museum, I thoroughly enjoyed the recent Singer Sargent exhibit here. I also was happy to see in a recent press release that the Museum has purchased the Portrait of Léon Delafosse. They do not have a picture of it on their web site yet, nor have they answered my inquiry as to whether it was part of the exhibit, but
according to the press release, it is to be put on display in May of 2001. If you are interested, I will try to keep you abreast of any pictures that they do publish.
Also, please let your Italian friends know about the location. If anyone has questions about the Museum, they can look at the website:
The press release is here [about Léon Delafosse]
They do list the painting as being from 1899, while your site lists it from 1894, but I assume it is the painting in question.
Thank you for a great web site!
Michael Kann
Natasha:
Date 4/24/01
Dear Michael
Thank you for your letter and information -- this is great and will pass the word along. Please DO let me know when they exhibit the painting next month and of any images they might have of it. I checked the list of paintings exhibited at their show and Léon Delafosse was not part of it. Let me direct you to the Seattle Art Museum's site on John Singer Sargent show -- you will like this
Best regards
Natasha
Subject: Friz. Wiliam Sargent portrait
From: Chris Janelli
cj an elli@snet.net
Datem 10/19/00

Natasha,

Your site is one of the best I have seen on Sargent.. Do you know if John S. Sargent ever painted a portrait of his father Friz William Sargent? I am desperately trying to find it for the following reason.

In 1954 my father purchased a Sargent painting from Raymond Suarez, a noted church arhcitect of the time who was married to a daughter fo Marshal Field. The painting was auctioned off when Suarez decided to sell his Westbury, LI, NY mansion (Westbrook Acres) for demolition and development of the property.

Mr. James Abbe, Jr., a well known art and antique dealer in Oyster Bay (LI, NY), in his 1979 appraisal of the painting wrote the following:

ďRenegades" Framed oil on canvas (relined). Signed John S. Sargent. (1856-1925). 24 by 20 inches. A winter village scene showing an elderly man with a grey mustache wearing an astrakhan hat, leggings, horizontal striped cloak, cartridge belt and shouldering a rifle with fixed bayonet. Marching past a group of female peasants and leading a motley band of men of whom some are armed. Note the similarities of the man leading group to the portrait of Dr. William Fitzwilliam Sargent, father of John S. Sargent done in 1883.

I am trying to locate this painting. Any help you can provide would be greatly appreciated.

Thanks and regards,

Chris Janelli



Yes he painted his father (1886) and his mother (1887), both paintings were done early in his career and both, I believe, are at the Sargent House Museum in Gloucester, Massachusetts. No I donít know of any image of either of these on the net, however his father's portrait is in Richard Ormond and Elaine Kilmurray's book; in Olson, Stanley's book; and in Patricia Hills' book -- to name a few

-- Nat